Industry Solutions
U.S. Pavement Services offers pavement and concrete solutions for a wide range of industries – a single source for any property type nationwide.
Commercial
Residential
One Source Since 1985
For more than 30 years, U.S. Pavement Services has been providing the most comprehensive and professional pavement maintenance and construction services in the industry.
Our philosophy has always been to provide the reliability and quality workmanship that our customers expect.
We guarantee that all jobs will be performed to the highest standards and meet your expectations.  When inevitable issues arise, we are fully committed to turning these into positive experiences.  For more than 30 years we have stood by this promise!
About us
Education
Our educational section includes descriptions of common parking lot problems, best practices and articles for remedying these problems, and the evaluation criteria used to rate locations' parking lot needs over time.
Additional Topics
Read All News
News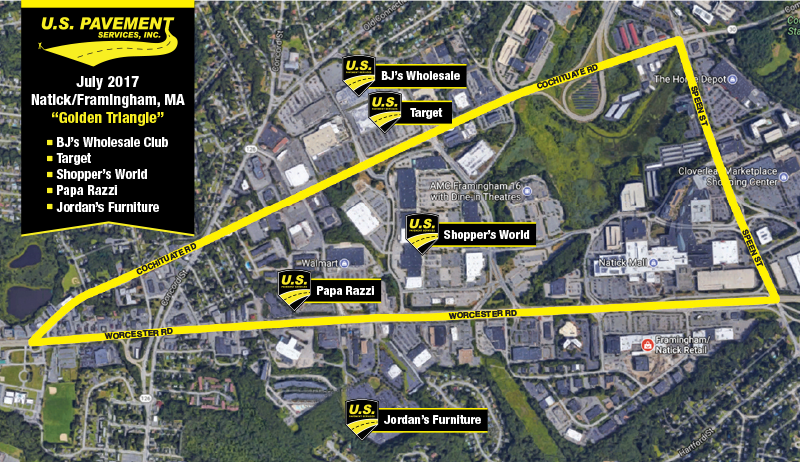 New England Real Estate Journal (NEREJ) recognized the work U.S. Pavement Services has done in the retail zone known as the "Golden Triangle" that straddles the Natick/Framingham town line. During the months of July and August a total of 5 properties in the 3 square mile area had asphalt and concrete work done. Retail titans Target and BJ's Wholesale had milling grading, paving, curbing, concrete and asphalt patching as well as pavement markings done on site without disruption to business operations. The Shopper's World plaza, which spans the width of the triangle, had extensive curbing repaired and replaced in multiple locations, reducing trip and tire hazards for visitors to the property. Papa Razzi restaurant received a complete crackfill, sealcoating and line stripe which instantly upgraded the property that directly faces Rt. 9 westbound in Framingham. At New England furniture favorite, Jordan's Furniture, milling, paving, patching, sealcoating and custom striping of its large parking lot and access roads was completed with minimal business disruption despite the large scale, multiple scope project.
Read Full Article >